Ashley asked me to send her my recipe for Stew. To be honest I don't recall when it was from so many months back after her and Jacob's move to Colorado, but I've been waiting for the weather to turn here in South Carolina. The changing of the weather is either a hard hitting event or a brief passing of Northern Winds blowing out into the Atlantic Ocean from the North-Eastern territory of The Republic of Horry County.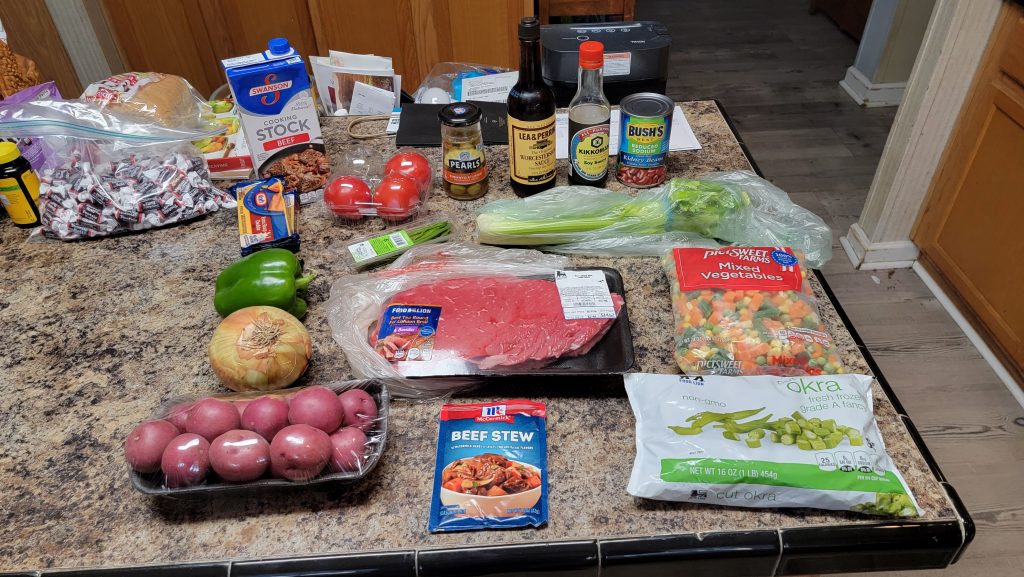 First things first – grocery shopping here is the scratch group of gathering:
1 The meat is important if you want some in your stew, if not, then leave out the animal and go for the plant stew. (I love beef so this'll have that in it, sorry Mr/Ms Rabbit out there). This was a London @ $6 a #, and I was using beef broth with a water additive so I didn't need the fat that can be found in other cuts.
It's your call if you don't want to cut the meat up, but it's more costly to have the bloke in the back wack your meat. You can go ground-what-the-heck-ever from 1# to 3#. A note you should learn is too much of any meat really overpowers the flavors.
2 The Vegetables can be just a frozen combination of your liking or the fresh market items. Potatoes aren't diabetes friendly, but I still use them when I can. Okra a stew must. I went 'mixed vegetables' frozen to save a bit, celery rarely cost much more than the chives (grass) @ $1. You must have a green pepper (or it could be yellow/red – your call or not), onion/garlic a must. You can pick your burn, warm/hot/insane peppers – don't but if you must warn folks, broccoli, cauliflower, beans and any other optional vegetable you and your guest care for should be fine.
3 The spices – it's is so easy to get a good season company's premixed seasons for a stew, or if you must it's not covered here what to gather other than a mix, pepper, salt, and herbs of your liking to flavor the meat in the first stages.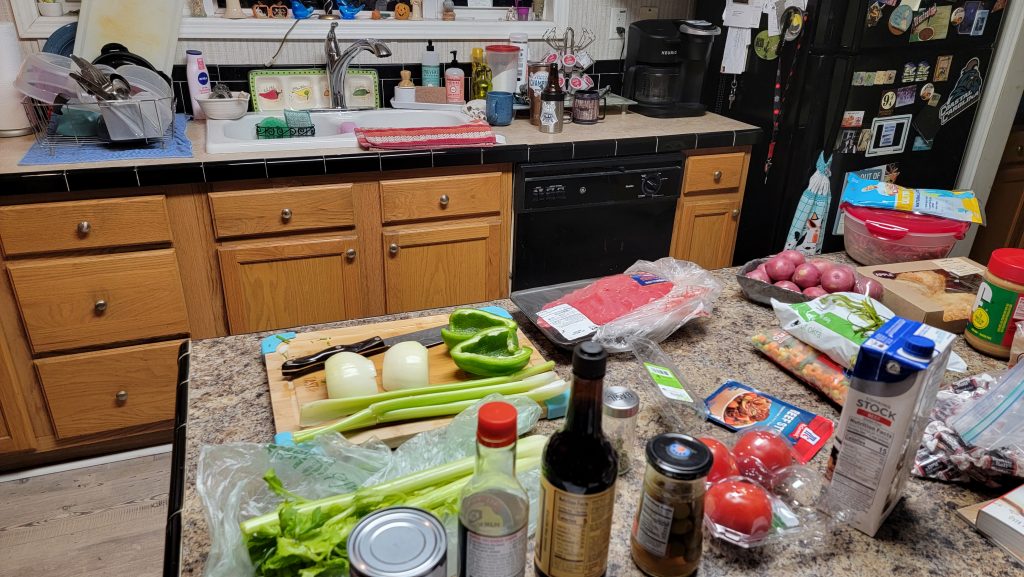 After washing all the items that need a bit of a bath, you're ready to start chop'n.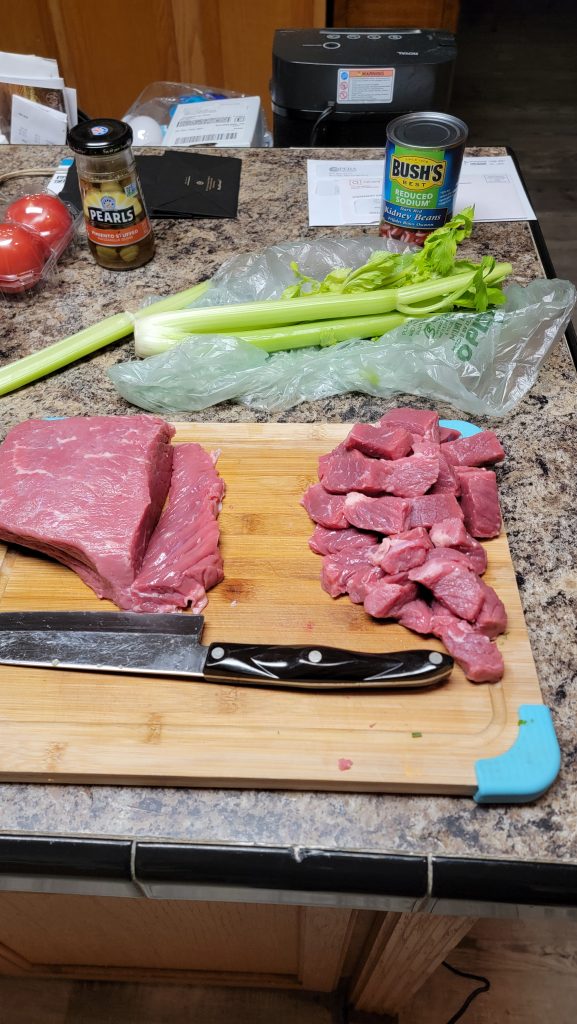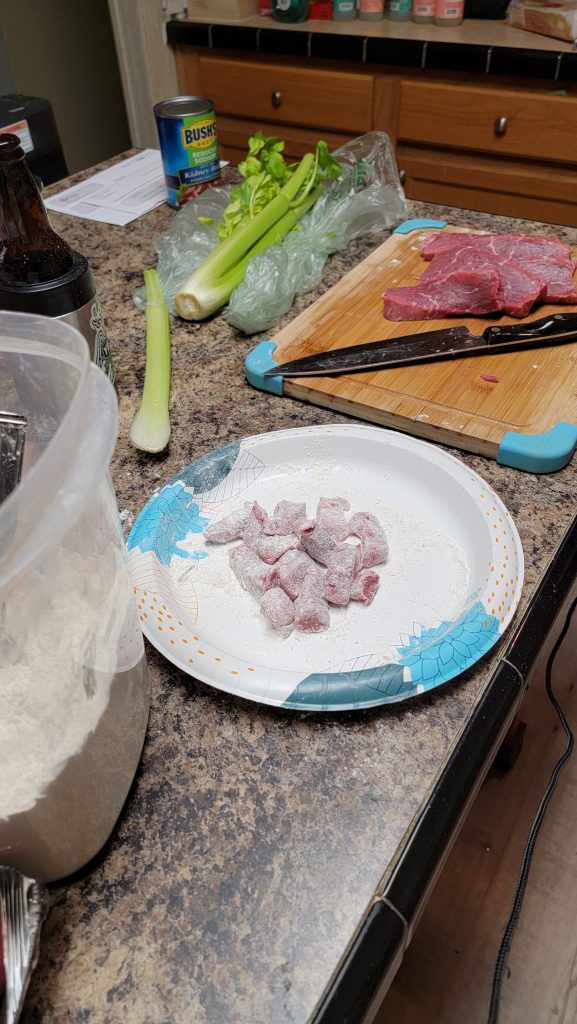 While the onions, garlic, and 2 to 4 Tbls of Olive Oil caramelizing in the Dutch oven or your two quart (no clue liter while writing this may get back to it or you can do it yourself; phuck in the time it took me to type all that sh!t up I could have converted and said 1.8927 litre) pot, get nicely combined we will start adding the breaded-animal-parts at this point. Be sure to constantly stir the pot, or your breaded meat parts will start to stick to the bottom.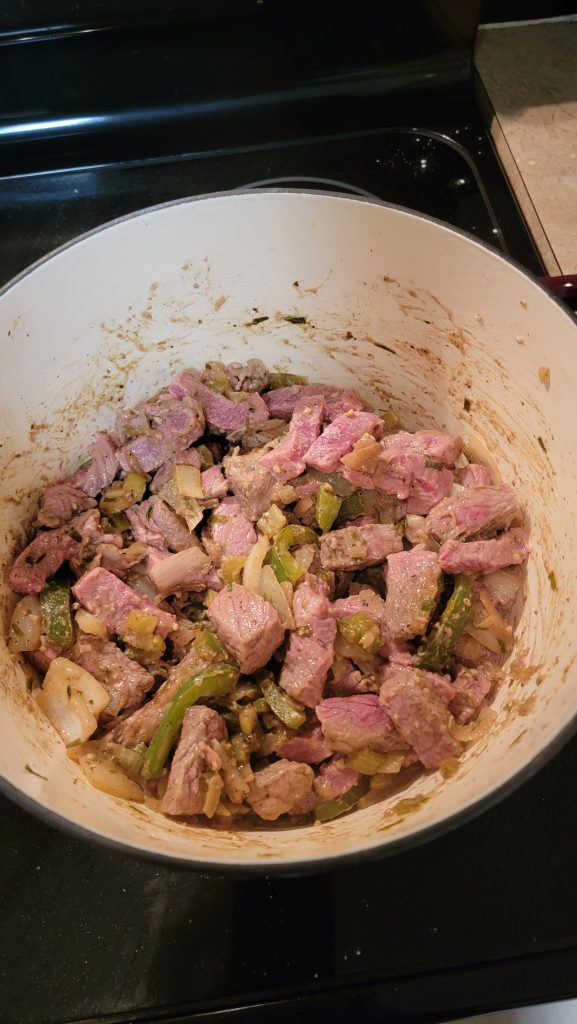 It'll take a bit to get used to the right stove top heat you need to brown the meat while not burning the starter vegetables. If you need to add another dash or two of olive oil, do not hesitate.
Mushrooms will add liquidity
Broccoli will add liquidity
Canned vegetables with water add liquidity
I try to keep about an inch of liquid above the total ingredients.

Stirring occasionally now that you have reduced the temperature after it came to a boil.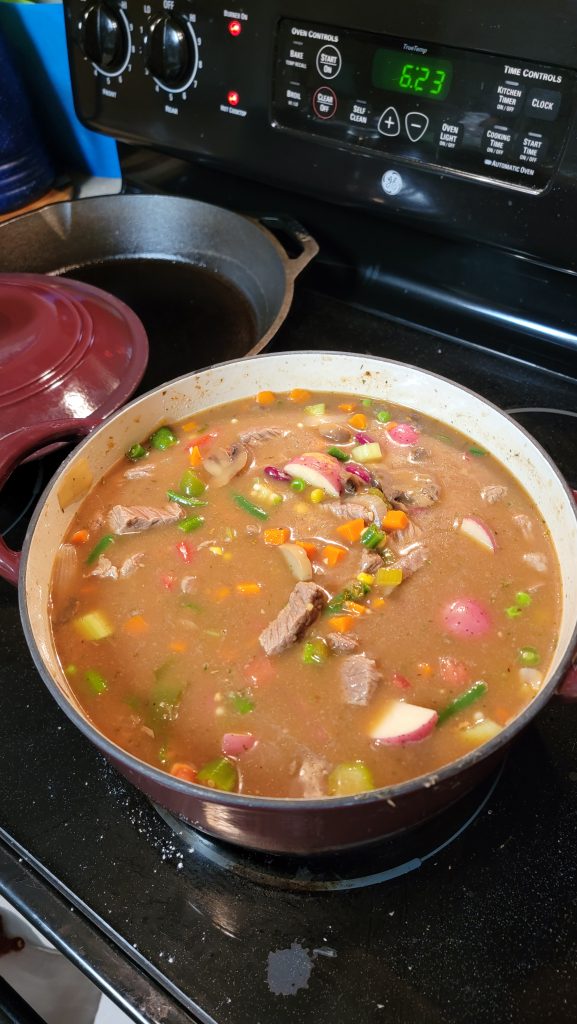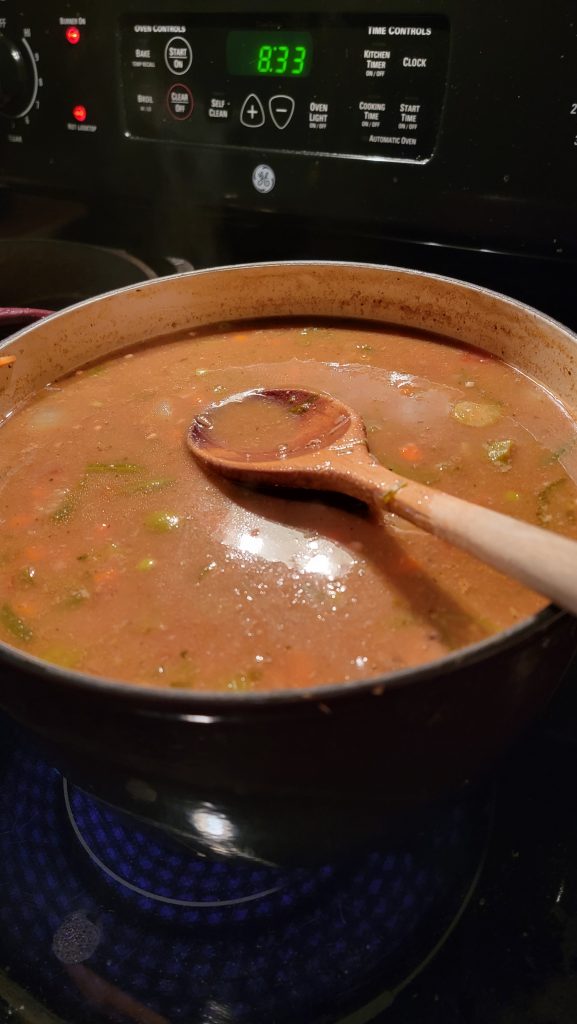 Then you have pulled it off.

You end this adventure with whatever toppings you prefer on your stew. I love oyster crackers and cheddar cheese. Let me know below what you love on your stew, if anything.