Tonight, I feel like a wet blanket.
My car I looked for for over a year was totaled a week ago. I sustained injuries that are being worked on now in rehab.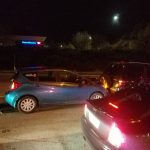 I am not in the greatest of moods of late with the USAA Insurance phucking me hard on the value of the car. While they compare mostly higher mileage cars than mine, they are low-balling the $h!7 out of me. After what my brother experienced with "roof damage due to a hurricane – denied" USAA, I knew to attempt to cover my bases with my full collision Insurance.  Nope, they grabbed my arse on both cheeks, and nailed me hard without even a spit of lube.
When you want the "JC Penny" of payouts, get USAA, but if you want fair market coverage of your insured property, you may need to look elsewhere, and forget it for a loan offer – *snicker*.